---
Pretoria Fields Radio – Android App (beta)
Pretoria Fields Radio Android App (public beta testing)
Pretoria Fields Radio is currently developing our Android app which is still in beta.  Up to this point, testing has been limited to Pretoria Fields Radio staff only.  We would like to open this up to the public to help us test and work out the kinks.  We have decided rather than running this initial phase of beta testing via the Play Store, we will make it available to download directly from our site for now.  The least amount of issues we have when the time comes to make it available on the Play Store, the better.
A word on downloading apps from unknown sources
Because you will be downloading this app from our website rather than the Play Store, you will need to allow app installs from unknown sources when installing the app for the first time.  This is a protection that Android OS devices use to make it more difficult to download malicious software to the end device by accident.  Depending on your version of Android these steps may vary but you should be prompted automatically when you attempt to install after downloading.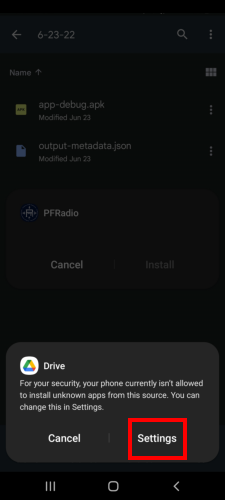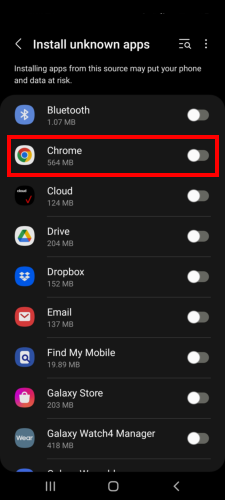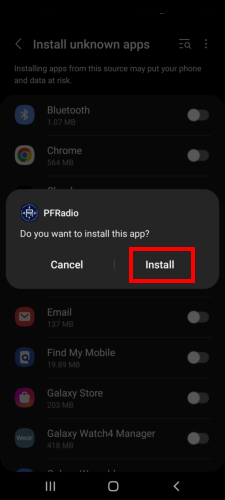 We have made every effort to eliminate as many issues with the app before releasing it to the public for beta testing but encourage any feedback whether it is positive or negative about the app.  There is a contact form within the app that you can use to send feedback which will go directly to me (Fluffy), the lead developer of the app, or you can contact me via support@pretoriafieldsradio.com with any issues or questions.
Disclaimer (Our lawyer made us do it)
This app, otherwise known as PFRadio, was designed and tested by the collective effort of the Pretoria Fields Radio team.  The contents of this app, including without limitation, all data, information, text, graphics and other materials are provided 'as is' and are meant to be used for information purposes only.  All audio streamed and album cover art displayed via this app belongs to the respective artist, record label, etc. and PretoriaFieldsRadio.com nor any of it's affiliates makes any ownership claim in said media with the exception of media copyrighted by PretoriaFieldsRadio.com
The app does not contain any tracking, analytical, malicious, or otherwise "phone home" software of any kind with the exception of normal API and TCP connections with our servers and our affiliate's servers to provide streaming audio, metadata and other information pertaining to PretoriaFieldsRadio.com.  The app does not require any permissions, nor does it require any authentication to access or deliver content to the user.
The contact form contained in this app sends information directly to PretoriaFieldsRadio.com staff and the option to not be contacted is available.  Any information provided via the app contact form will not be shared with any outside parties for any reason.
PretoriaFieldsRadio.com and/or it's affiliates will not except any responsibility for damages including data usage overages that may occur while using the app.  The app may be uninstalled via typical uninstall methods provided by the Android operating system at any time.
Thank you for your interest in Pretoria Fields Radio.com.
-Fluffy
---